Why Should You Consider a Career in Care?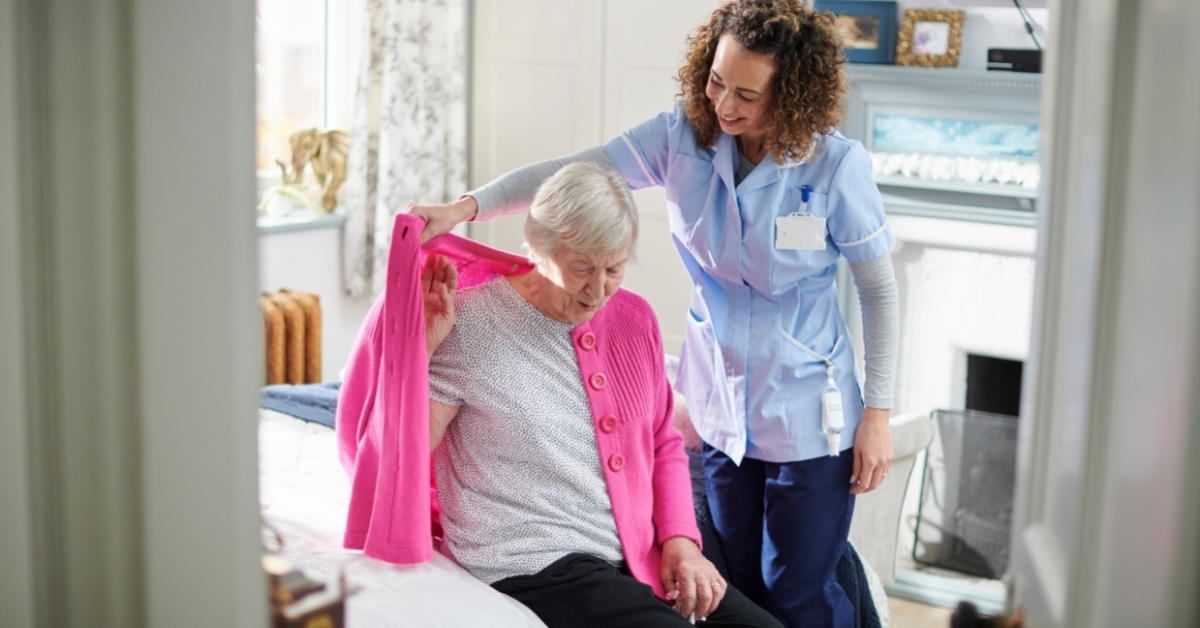 Maybe you've always wanted to work in care, helping others when they most need it. Alternatively, you may find yourself now looking at a change of career due to personal circumstances, wondering if a career in care might be just what you're looking for.
Why Should You Consider a Career in Care?
Few careers are as rewarding as working in care. Finishing a shift with the knowledge that you genuinely made someone's day better and brought a smile to their face, is priceless. The feeling of job satisfaction that comes from caring for others, truly cannot be rivalled.
Why Become a Home Carer?
Care work in all settings is extremely rewarding but when looking after people in their own homes, you also know that your support is helping them to stay exactly where they want to be. Over time you will build up professional relationships with those you are caring for and their families, which you don't necessarily get in some other care environments.
I love working in care because no two days are ever the same. The one constant though, is that I get to go home knowing I've made a real difference.
I Have no Care Experience, Where do I Start?
If you are a kind, compassionate, patient person, who wants to make a difference, then you are perfectly suited to a career in care! A willingness to learn is all you need to get started.
Caring for others is a continuous learning experience that will always start with basic training. At Intrust Care all of our new starters receive a range of in house training which includes:
Medication
Moving and Handling
Infection Control
Safeguarding
Professional documentation of client notes
GDPR (General Data Protection Regulation)
Mental Capacity Act
There is also further training for all carers on our online system, and often more specialised training becomes available, such as PEG. (Percutaneous Endoscopic Gastrostomy) feeding and Tracheostomy care.
You will find that some of the best learning experiences in your career will come from your colleagues and also the clients you work with. You will learn about specific illnesses and conditions depending on the individual clients you support. Our very experienced senior carers take our new starters under their wings, and share their knowledge and the expertise that they have gained over the years.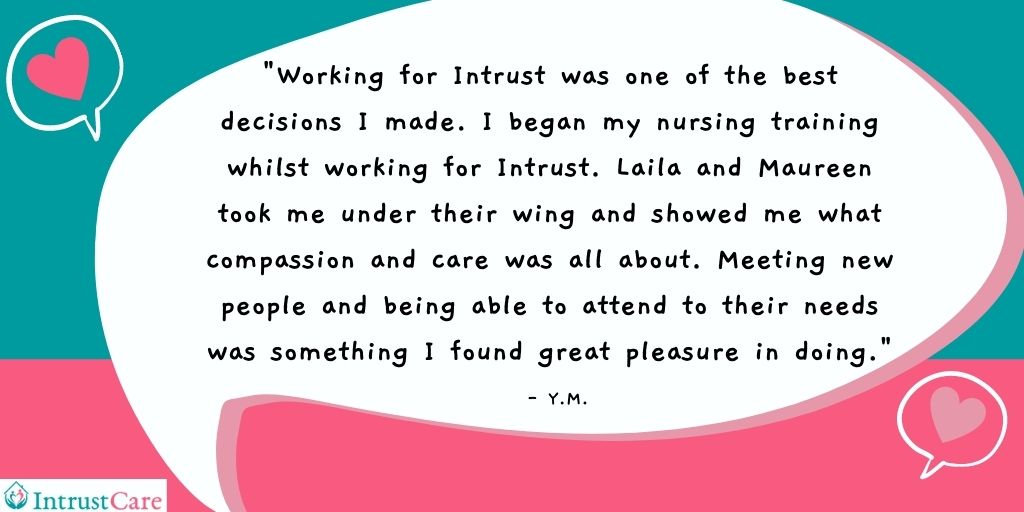 What Does a Typical Shift Look Like?
Working as a home carer in the community, you will have received your rota in advance so you will know exactly which clients you will be looking after. You will often find that you work the same "round", which means you have a fantastic opportunity to build meaningful relationships with clients and really get to know them as individuals. Shifts vary depending on the hours you want to work, with a range of earlies, lates, long days and weekends being available. You will either be partnered with another carer for calls, or work on your own with clients that don't require as high a level of support. Here at Intrust Care, our new carers will always be partnered with a senior colleague, helping you to build skills and gain confidence.
In the community (not 1:1, or live in), you can expect to spend between 30 minutes to 2 hours on a call with a client, helping them with a variety of personal care needs, daily living activities, meal preparation and medication.
You will be given time to travel between clients (which will have been factored into your rota), and at Intrust Care we pay our carers for the time you are travelling, not just when you are directly working with our clients. This, however, is sadly not something that all care companies do, so do check this when looking to start care work within the community. We also offer a generous mileage allowance, to help cover our carer's fuel costs.
What About Career Progression?
There are plenty of opportunities for you to progress in your career as a carer, moving into senior roles or management positions, as your experience, skills and confidence grow. You may even decide to study whilst continuing in your role, with NVQs in Health and Social Care or training as a Registered Nurse. The flexibility of care work allows you to work shifts around your education, helping to bring in an income and gain further practical experience, whilst also doing theoretical work in your studies.
If you have read this and think that a career as a home carer might be perfect for you, get in touch with us today!
You can send us a message using our online form, email us at 01908 380 600. We would love to help you kickstart your career in care.
If you found this post helpful, please help us by sharing it with your friends on social media!