Christmas Gift Ideas for Someone with Alzheimer's or Dementia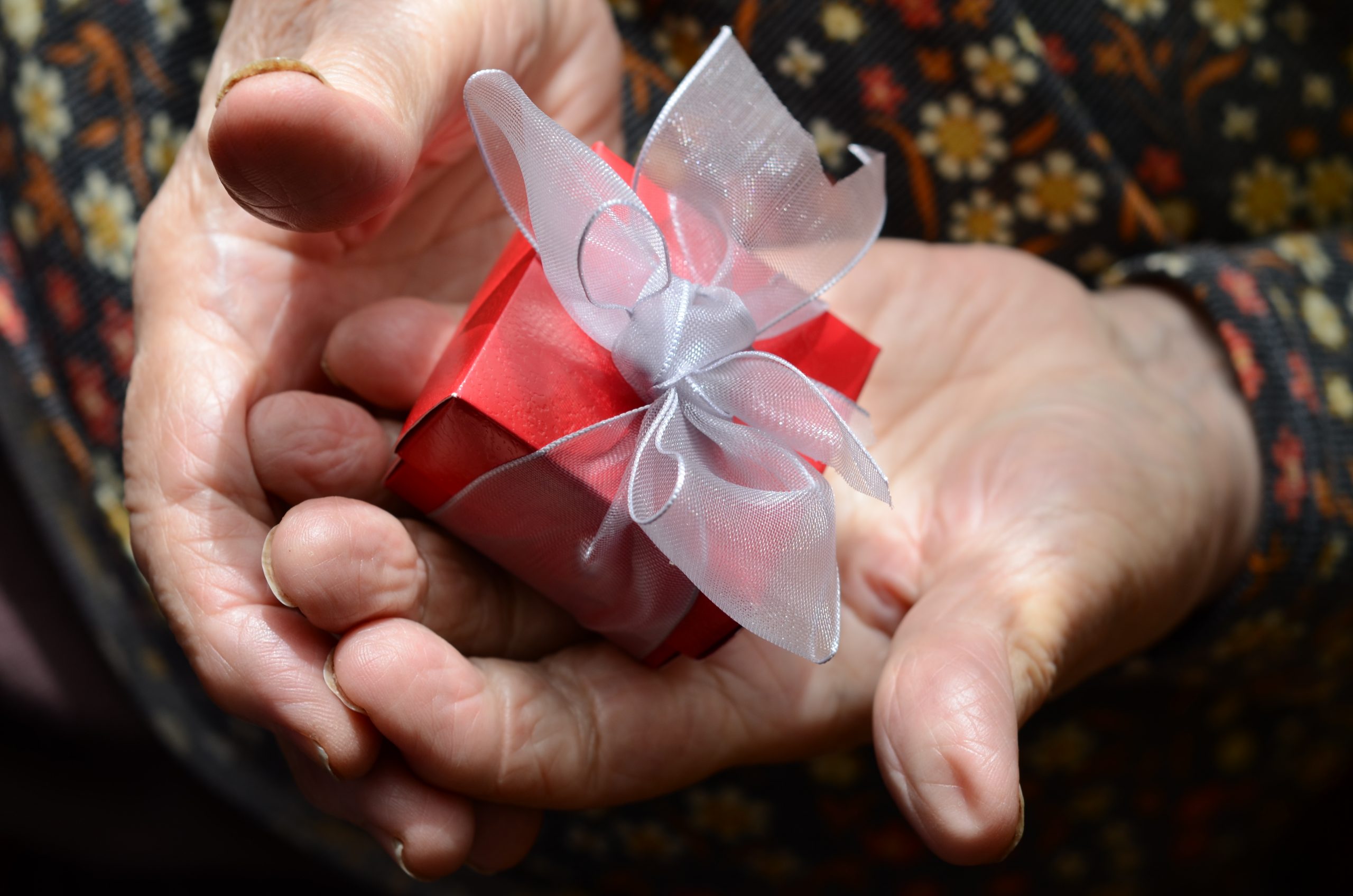 Finding Christmas gift ideas can be tricky at the best of times. Finding gifts for a loved one who has a diagnosis of Alzheimer's or dementia can create an entirely different challenge. Gifts need to not only suit your loved one, but also be appropriate for the stage of the disease that they're currently experiencing.
To make your life easier, we have collected together our top 10 Christmas gift ideas for someone with Alzheimer's or dementia. We've tried to ensure that these will suit individuals who are in varying stages of their dementia diagnosis, as well as different budgets.
Happy Shopping!
Christmas gift ideas for someone with Alzheimer's or Dementia
1) Food hampers
Budget: To suit you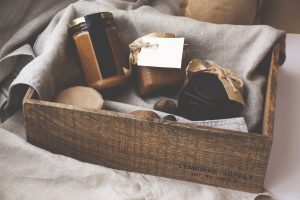 Personalised food hampers are a great gift idea for someone with Alzheimer's or dementia. Often appetite decreases in those with dementia, so having favourite snacks around can help with keeping up nutrition. Similarly, including favourite drinks such as Ginger Beer or Elderflower cordial can help to keep your loved one hydrated. Do check with your loved one's healthcare provider if there is anything that they don't recommend including. For example, high sugar items would not be suitable for someone with Diabetes, or there may be foods that could be a choking hazard.
2) Art supplies
Budget: Usually between £5 – £30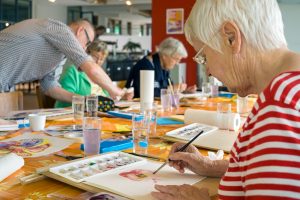 Research has shown that art can be beneficial to those with dementia and Alzheimers. It can help to distract, allows the person to express themselves, reduces agitation, and can also evoke memories and reinforce identity.
A watercolour paint set and special paper would be a lovely gift idea for someone with early-stage Alzheimer's or dementia. Allowing them to express themselves and their emotions by creating beautiful artwork. For someone who has mid to late-stage dementia, a large print colouring book and pencils may be more suitable. Some colouring books even show a guide example and a short fact to inspire conversation after the activity has been completed.
One of our favourite art gifts are the aquapaint – Garden Wonders These canvases appear blank but when water is brushed over them they reveal a beautiful garden image. They allow the simulation of painting but are also reusable. When the water dries they fade back to a white canvas. You can buy these on the Alzheimer's Society website for £17.99. They are also available on Amazon for a similar price.
3) Reminder clocks
Budget: Approx. £35 – £84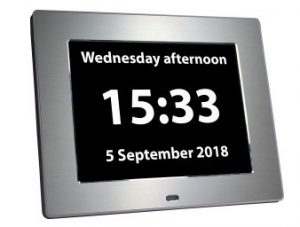 Rosebud reminder clock – metal CREDIT: Alzheimer's Society
Disorientation to time and place is a common symptom of dementia.
Reminder clocks tend to have a large display, which is useful for anyone with visual impairment, or who struggles to read smaller print. The lower-priced ones show the day, time, and date/year – all of which are non-abbreviated. They may also have functions to set daily alarms for mealtimes or medication.
The slightly more pricey clocks like the Rosebud reminder clock (exclusive to the Alzheimer's Society shop) also have additional features. The rosebud clock also:
Shows whether it's morning, afternoon, or evening
Has an automatic time change for British Summer Time
Can be set to give reminders for appointments and/or events taking place on specific dates in the future
These clocks can help orientate the person to the time and day, helping to avoid missed meals, missed medication and missed appointments. They can, therefore, be a really helpful & thoughtful gift idea for someone with Alzheimer's, dementia, or memory difficulties.
4) Cuddly pets
Budget: £22 – £27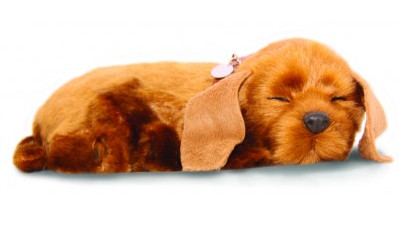 Precious Petzzz – Dog CREDIT: Alzheimer's Society
A comforting and soothing option for an animal lover with mid-late stage dementia, is a cuddly pet. Precious petzzz  is a popular choice as they make beautifully soft, lifelike pets, with bellies that breathe. There are various breeds of dog on their website, along with different cats also. For the exotic animal lovers, there's even a pink pig, a koala bear, a lion or a gorilla!
You can buy precious petzzz from their website, or from Amazon or the Alzheimer's Society shop. They range from between £21.99 – £26.99. If these are a little out of budget, a cuddly toy dog or cat would also work in the same way. It would still give your friend or loved one something to focus on and direct their love and attention to, whilst simultaneously feeling comforted by the pet's presence.
5) DAB Radio or music players
Budget: Approx. £22 – £100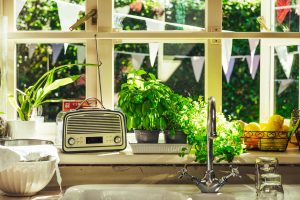 Studies have shown a connection between music and dementia. The NHS agrees with research that music can unlock memories and provide numerous benefits to those with dementia.
With this in mind, a gift of a DAB radio could be of real benefit. You can now find reasonably priced DAB radios in many retailers. We found on Amazon that DAB radios start from around £22 upwards. Not only is music an enjoyable distraction, but it can also help to ease loneliness and unlock memories. Individuals with a dementia diagnosis most often have difficulties with short term memory, but find it easier to remember things from the past. Listening to music from childhood, or from when they were a young adult can help with this memory recall.
If a DAB radio might be a little too complex or confusing for your loved one, there are other alternatives. The Alzheimer's Society shop has a "simple music player". These music players were designed to be used by those with dementia, without the need of assistance. Their main features include:
Easy play and stop function, by lifting or shutting the lid
Only one button – which skips to the next track
Preset volume (by friends or family) and easy playlist set up, via a USB cable
These simple music players could be a great alternative to a DAB radio for someone who has mid-late stage dementia. With a £99.99 price tag, they're not cheap, but could be a good option if family members want to club together to buy a gift.
6) Fiddle muffs
Budget: £0.00 – £30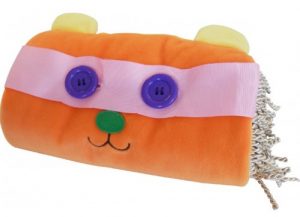 Fiddle Muff – Friendly Lion CREDIT: Alzheimer's Society
Attractive, tactile, multi-sensory comforters with added benefits. Fiddle muffs can be a great gift idea for someone with Alzheimer's or dementia. In the later stages of dementia, people can often pick at their skin, tear tissues, or make repetitive motions with their hands. Fiddle muffs can be excellent, as they provide a focus for the restlessness and agitation that often cause the above behaviours. They provide a sense of comfort, whilst also calming agitation and improving circulation. They can also be found in the form of wrist bands, mittens, cushions, weighted lap cats and blankets.
Average prices for fiddle muffs and similar items are between £24.99 – £29.99. The reason we have put from £0 in the budget, is because they can be homemade. If you can knit and/or sew, you could make your own fiddle muff very easily from items you have at home and old clothing that you no longer need.
7) Pashmina style clothing protectors
Budget: £16.99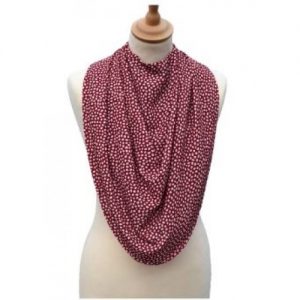 Pashmina style clothes protector – dotted burgundy CREDIT: Alzheimer's Society
Clothing protectors are a great way to keep clothes fresh and clean during mealtimes or craft sessions. You can find clothing protectors labelled as "adult bibs" on Amazon from £6.99.
Pashmina style clothing protectors are a little more stylish and have a more dignified feel to them – although both essentially do the same job. They are machine washable, with an absorbent layer and a waterproof layer, which allows for total protection. These can be a wonderful gift for a sister, mum or grandma who has always taken pride in their appearance. They keep clothes clean and protect from spillages, whilst allowing your loved one to maintain their sense of style identity.
8) Bathing and self-care products
Budget: To suit you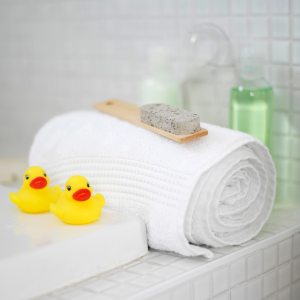 Everyone enjoys nice smelling bath and body products and this is no different in people with early-stage dementia. Having a pampering session with bath products, or hand creams can be a helpful way for someone with dementia to relax. It can reduce agitation and may even help with sleep when built into a daily routine.
In the later stages of dementia, it can be difficult (at times) to motivate a person to have a wash, bath or shower. There are products available for the more reluctant, such as towel off body wash, which can help on the not so good days. These products allow carers to cleanse and moisturise the skin without the need to use water.
9) Empathy dolls
Budget: £10 – £60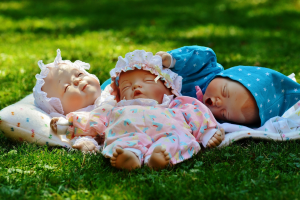 Dementia UK states that "the use of dolls can bring great benefit to some people with a diagnosis of dementia, particularly those in later stages". The benefits that have previously been observed include, but are not limited to:
Decreased agitation
A renewed sense of purpose
Increase in activity and liveliness
Improvement in communication skills
Despite the evidence and benefits, empathy dolls can be a sensitive or slightly controversial gift. Some people see giving a loved one a doll, as treating them like a child. This is why it is always worth speaking to your wider family first, before purchasing one as a gift. If everyone agrees that a doll is a good gift idea, it may be worth trialling a cheaper doll first. Empathy dolls won't be suitable for everyone and with prices up to £60 they can be expensive.
10) Your time
Budget: £0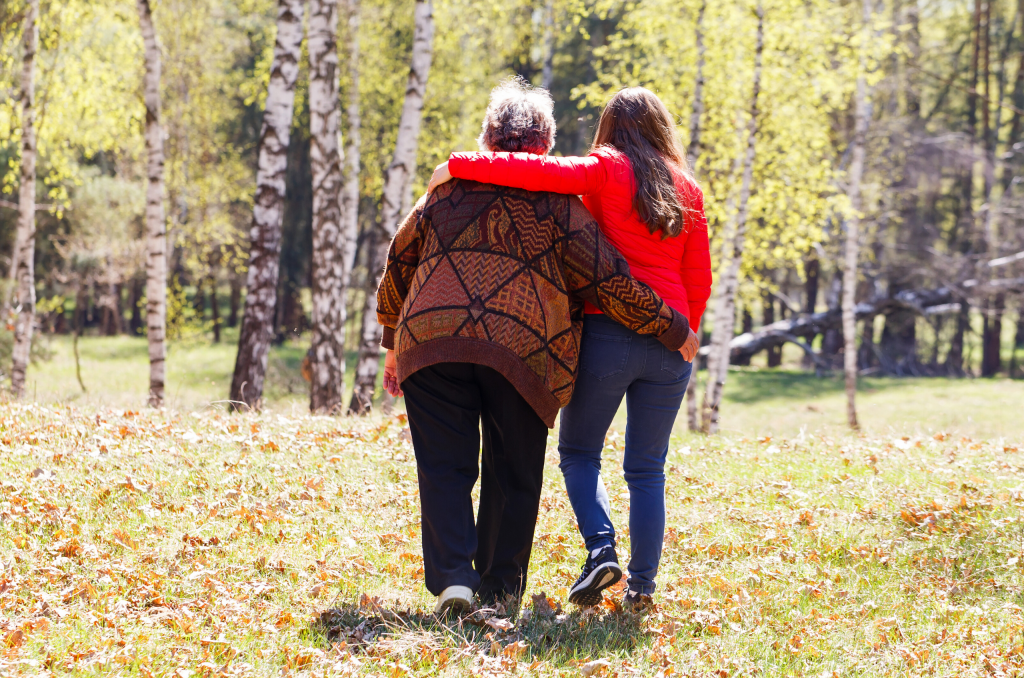 The best gift you can give is your time. Taking your loved one to the park, or to a local cafe, can (with proper preparation and consideration) provide a refreshing change of scenery. If your loved one is not well enough for activities like these, just spending time with them is important. Sitting in silence and holding someone's hand is often the most comforting and precious gift that you will ever be able to give.
Covid-19 has of course had a huge impact upon being able to spend time with our loved ones. Trips like the suggestions above may still not be possible for some, sadly, but a visit, phone call or video call can still make a big difference and will be greatly appreciated and enjoyed by the recipient.
We hope this has helped you get some great Christmas gift ideas, for your loved one with Alzheimer's or dementia. 
Please remember that everyone is an individual and a product that benefits one person, won't necessarily be suitable for another. Unfortunately, it is often a case of trial and error and this is why we have suggested buying a cheaper version first, wherever possible. All prices shown are as of 03.12.2020 and may change over time.
We have featured many Alzheimer's Society products in this article. Intrust Care is in no way affiliated with them, or gains any benefit from championing their products. We do, however, love the fact that any purchases through their shop mean that all profits from the sale go to fighting dementia.
If you enjoyed this post, please help us by sharing it with your friends on social media!