Delicious Summer Meal Ideas And Recipes: For Older Adults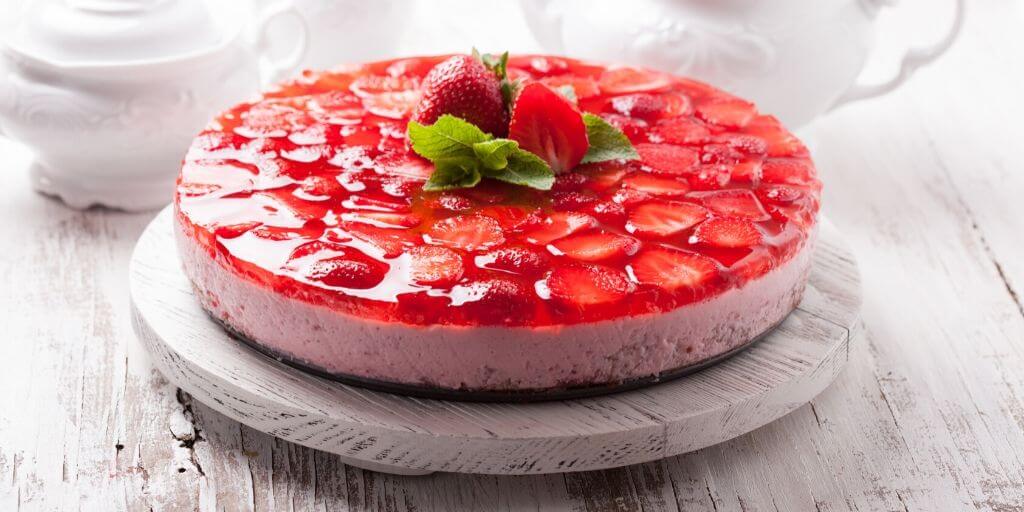 This week we thought we would bring you some of our favourite summer meal ideas and recipes, as voted for by our *clients!
Quick, easy and above all delicious – these ideas will help to make mealtimes enjoyable, throughout the summer and beyond.
As we age our interest in food can start to wane. Appetites decrease and illness and medication can also play a part in us being less interested in food. When we add the heat of the summer into the mix, it can be difficult to maintain adequate nutrition, which is so important for all aspects of health.
Having tasty foods and simple light meals that are suitable for warmer weather can make all the difference. That's why we collected some of our client's favourites, to help provide a little inspiration for yourself or your loved one.
*All names have been changed for anonymity. Please check with your medical team whether these foods are suitable for you.
Summer meal ideas and recipes

Salmon sandwiches
"When it's warm, I don't feel like a hot dinner. Instead, I like having a sandwich; my favourite is salmon. If I'm feeling like a treat I might have some cream cheese with it." – Pat
As Pat pointed out, sandwiches can be a great alternative to a hot meal in the evening. They are light but the fillings can also be packed with nutrients. 
Salmon
High in antioxidants, vitamins & minerals (including B12), protein and omega-3 fatty acids. These fatty acids are thought to help with brain function, joints and general well being.
Egg Salad
Another great source of protein, eggs are an inexpensive sandwich filler. They contain a whole host of vitamins and minerals including zinc, iron, vitamins A, B2, B6, B12, K, D. Eggs also contain Vitamin E which helps to keep the skin and eyes healthy and strengthens the immune system.
Tuna
Tuna has a very similar nutritional profile to salmon – also being high in omega-3 fatty acids. It can be mixed with mayonnaise and sweetcorn, for anyone that fancies a bit of a change.
Ham & Cheese
Ham is also packed with protein and contains a range of B vitamins which help your body break food down into energy. Processed ham can contain a lot of sodium (salt) however, which can raise blood pressure. Cheese is a great source of calcium, protein, B vitamins and Vitamin A, which keeps your skin healthy, helps with vision in low light, and can also keep your immune system functioning properly. 
Whilst ham and cheese both have a good nutrient profile they are both high in salt, and cheese also has a high level of saturated fat – which is why they are best enjoyed in moderation.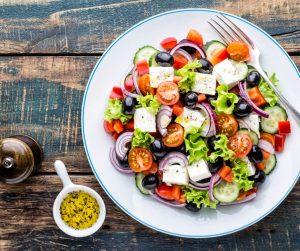 Fresh salads
A firm favourite with both our clients and our staff were fresh salads. Our client George told us how having ham salad for "high tea" every Sunday at his grandparents' house, was the highlight of the week when he was a boy.
Salads can be as basic or exotic as you like. Whether you firmly believe salad should only include lettuce, cucumber and tomatoes, or if you enjoy adding olives, seeds and dressings, there really is a salad for everyone. You can also add some protein such as ham, grilled chicken, tuna, eggs, chickpeas, mixed beans, or cottage cheese and add extras such as potato salad or hummus.
We've collected five delicious salad recipes that can be whipped up in under 15 minutes.
Soup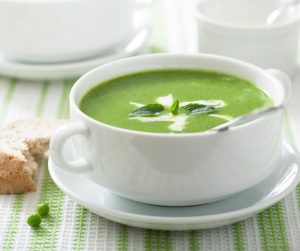 Soup is often seen as a warming winter dish, but it can also be a nice light meal alternative in the summer. Here are some of our favourite quick and easy soup recipes for you to enjoy.
The wonderful thing about soup is that it can be batch cooked and frozen in portions, then defrosted when needed.
Sausage rolls, boiled potatoes and broccoli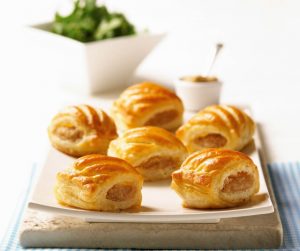 This was our client Molly's favourite meal. A benefit of this meal is it can be eaten hot, just as she likes it, or each element can be chilled for more of a summer feel. The potatoes are packed with potassium and vitamin C and the broccoli contains vitamin K and calcium, which help with bone health. Broccoli is also a good source of iron and fibre.
To make this meal more summery, the sausage rolls can be eaten cold, the boiled potatoes can become a delicious potato salad and the broccoli can also be made into a healthy salad. The cold version of this meal allows for each element to be prepared in advance and stored in the fridge.
Chicken pasta salad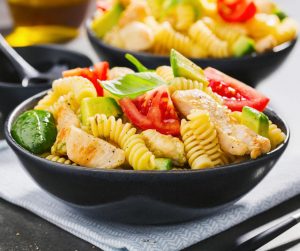 Another tasty meal that can be enjoyed hot or cold is chicken pasta salad.
To make this dish healthier use wholewheat pasta, which is a complex carbohydrate – full of fibre it slowly releases energy over time, avoiding the spike in blood sugar that can come from white pasta (refined carbohydrate). Just ensure that once the pasta salad has been cooked that it is refrigerated as soon as it cools down, to avoid the risk of food poisoning from the chicken.
Spanish Omelette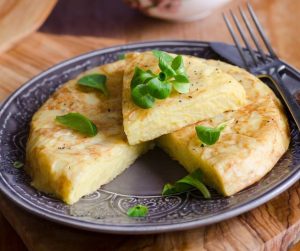 Luis told us that one of his favourite dishes is "Tortilla de Patatas" which reminds him of family holidays in Spain. For anyone that doesn't speak Spanish, this roughly translates to Potato Omelette. 
Spanish Omelettes can be made with only 5 simple ingredients and can be eaten hot or cold. Cut them into slices and pair with cooked vegetables or a salad for a nutritious, mouth-watering meal.
Try this Spanish omelette recipe, for a taste of Spain. If this is a little too time consuming, why not make a quick traditional omelette and fill it with yours or your loved one's favourite filling.
Are you ready for dessert?
Strawberry cheesecake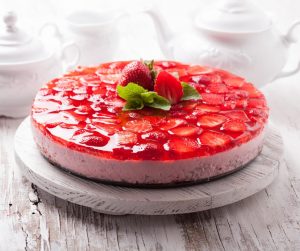 Elsie told us how one of her favourite desserts was strawberry cheesecake, and we have to agree.
Fruity cheesecakes are a delicious dessert option during the summer months, and when paired with fruits and berries, they can be nutritious too. Strawberries are low-calorie berries, which do not rapidly boost blood sugar levels – making them a good fruit choice for Diabetics. They are full of antioxidants, vitamins C, K, folic acid and potassium.
This strawberry cheesecake recipe can make a large cheesecake, or can be made into individual portions using ramekins or recycled glass dessert pots. If you want to freeze these portions (or slices of a larger cheesecake) make them instead in silicone molds, which can then be popped out, wrapped and frozen to be enjoyed at your leisure.
Cream tea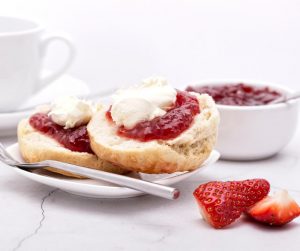 Whether you're a jam then cream person, or a cream then jam person, cream teas are a firm English favourite for people of all ages.
Homemade scones can be frozen and then defrosted at room temperature, with a quick 10-second blast in the microwave or a couple of minutes warming in the oven, if only one or two scones are needed.
Although cream teas are a tasty treat, they should be eaten in moderation. Clotted cream is high in fat and calories, although it also contains some protein and a fair amount of vitamin A (Retinol), which helps with your skin, your vision in dim light and strengthens your immune system. To reduce your calorie and fat intake you could use squirty cream instead, although this is typically higher in carbohydrates and sugars.
Fresh Fruits & Fruit Salads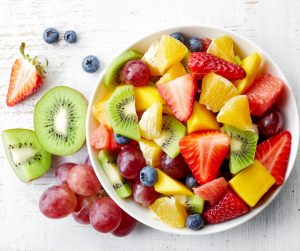 Nothing says summer quite like a fruit salad and our clients also thought so too. There was a range of favourites, so we've collected some of the best for you to try.
Fruits are jam-packed with antioxidants, vitamins and minerals which are all extremely good for your health. Most fresh fruits also have a high water content, which can help you or your loved one to stay hydrated in the warmer weather.
Always be guided by your medical team as to which fruits are suitable for you. Some fruits are more suitable for diabetics than others, and some fruits such as Grapefruit cannot be eaten when taking certain medications.
Banana Split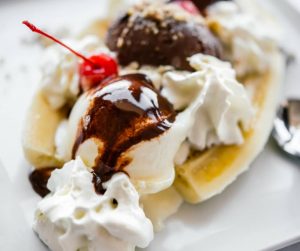 "I love a good banana split. Bananas weren't available during the war, so it was a real treat to have my first banana split when I visited Scarborough in the 50's. I can still picture it now, sitting in the Harbour bar with my parents and my brother and sister!" – Bob
If, like Bob, you or your loved one enjoys a good old fashioned banana split, we have found the ultimate banana split recipe! 
For something slightly less extravagant, a split banana with a scoop of your favourite ice cream, and some chocolate sauce will be equally tasty.
We hope that these summer meal ideas and recipes have given you some inspiration and got your taste buds tingling. It can be easy to get into a routine with food especially as we age; by trying new things, or going back to old favourites, food can become exciting and enjoyable once again – helping to encourage good nutrition to keep us healthy.
Please help us by sharing this article with your friends on social media!